UBIBOT MOTION SENSOR MS1
Infrared motion sensor, movement and occupancy detection
● Remote infrared motion sensor, up to 12 meters detection distance
● Wide detection range: horizontal 105 degrees, vertical 40 degrees
● Supports 2.4 GHz WiFi connection, easy to set up
● Powered by Micro USB cable, painless in deployment
● Real-time notifications via app, email, SMS text, voice call, etc
● Keep your home, office, warehouse safe and under guard
● Cloud-based platform, free to access, no subscription fees.
● No hub required
The Ubibot wireless Motion Sensor is a compact motion sensor that allows you to detect occupancy as well as movement. The product includes an infrared motion sensor which can monitor the real-time mild dynamics of human body or animals.
The UbiBot ® MS1 uses the cutting-edge IoT technologies to offer a more stable environmental monitoring with high performance. Embedded with WiFi, it detects environmental data all day round and automatically syncs all the data to the UbiBot ®IoT Platform. Our MS1 supports WIFI connected. Put the device in the field with wide version, the slight movement of human or animals can be detected. And also the measured data, synced data and trigger logs will be recorded in the IoT platform, which can be downloaded any time. The wireless Motion Sensor could be applied to multiple scenarios, for example, you will be able to set the light to turn on and off as people enter and leave the room.
Our cloud-based IoT platform offers advanced data analysis and management. It also allows you to setup real-time notifications - if a metric goes outside the range you specify, the platform will notify you through the app, by email, SMS text, voice call and HTTP, allowing you to respond promptly before costly damage happens. Please note, charges apply to SMS text and voice call alert modes. These two modes cost the balance of the credits in your account. The IoT platform gives users access to both the real-time data and history via our mobile app or on any browser. We are now working with IFTTT (if this then that), allowing you to build custom link with other smart devices.
The device can store up to 300,000 records in its internal memory, which can protect your data against network failure. Even if the network fails, the UbiBot MS1 still stores readings, thus ensuring there are no gaps in the data history.
Device supports power supply of Micro USB, which make sure a stable working condition and easy to deploy.
The provided mounting screws can be used to mount the Motion Sensor in a corner or flat surface on the wall.
Package Included
1 x device
1 x Micro USB cable
1 x User guide
1 x Pluggable Terminal Block Connector
2 x screws
| | |
| --- | --- |
| Detection distance | 12 meters |
| Detection angle | vertical 40 degrees, horizontal 105 degrees |
| Power supply | Micro USB |
| Operating temperature | -10℃ to 50℃( 14℉ to 122℉) |
| Operating humidity | ≤ 90% RH, No condensation |
| Opration system | Android/ iOS |
| Network | 2.4GHz WiFi |
| Wireless standard | IEEE 802.11b/g/n |
| Bluetooth | BT4.2, Classic BT&BLE supported |
| Size | 80 x 80x 48 mm |
1 x device
1 x Micro USB cable
1 x User guide
2 x screws
Innovative technology, Striving for perfect
Motion sensor MS1 supports WiFi and RJ45 Ethernet cable connection. When installed in a place with wide field of view, the motion sensor can accurately sense the slight movement of people or animals. The trigger log is recorded on the IoT cloud platform of UbiBot®,which allows you to download anytime and anywhere.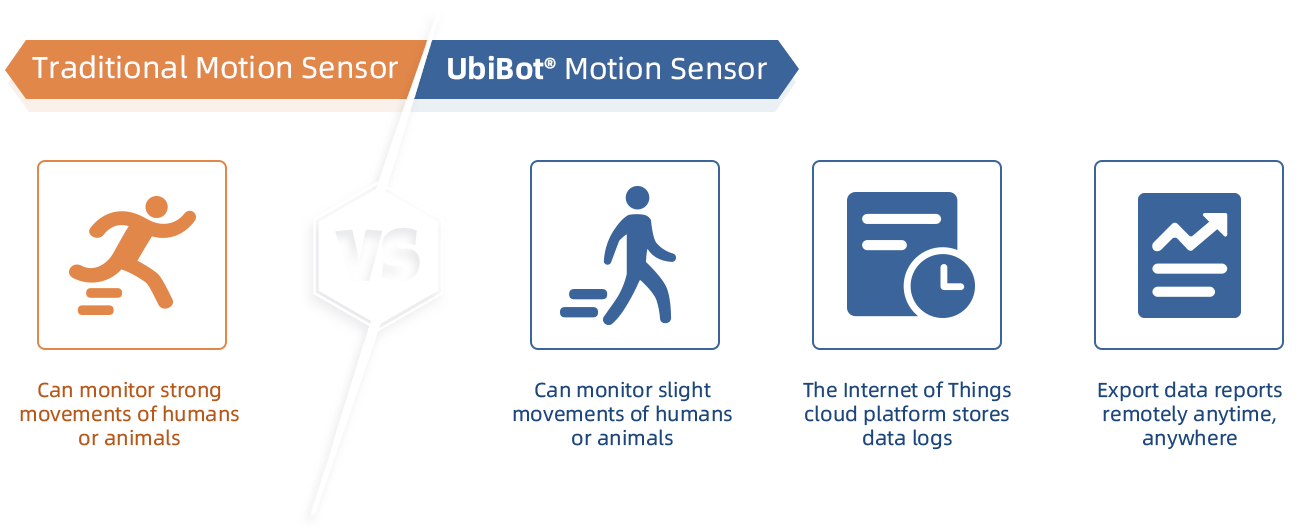 POE Network Deployment, Data Transmission Stability
Supports WiFi and RJ45 Ethernet cable connection. POE network ensures much easier deployment, stability and real-time update. Support 220V power supply or USB, POE power supply. Multiple ways of communications and power supply fit different monitoring environments, reducing the rate of wiring.

Multiple Alert modes are widely used in security field
The MS1 supports various alert rules and alert modes through the platform to realize remote security supervision. Instant status report of online or offline is in real time. The efficient and reasonable algorithm of the sensors can effectively reduce the number of false positives.
Platform-based alert rules
Receive alerts in real tims
A variety of alarm modes options
Device online / offline notifications
As low as 0.3% false alert rate
Connect to the cloud platform of the Internet of Things
UbiBot®
motion sensor MS1 is connected to the IoT big data platform through wireless WiFi/RJ45 Ethernet cable. The data of motion from people or animals collected by the built-in sensor are uploaded in real time, and can be accessed on mobile phones, tablets, computers and other terminals of the Internet of Things.

Specifications
Detection distance: 12 meters
Detection angle: vertical 40 degrees, horizontal 105 degrees
Power supply: Micro USB / POE power supply * / AC power supply *
Operating temperature: MS1 -10~50℃ ; MS1P 0~50℃
Network: 2.4GHz Wi-Fi / RJ45 Ethernet *
System Support: Android 8.1 / iOS 11 +
Dimensions: 80×80×48mm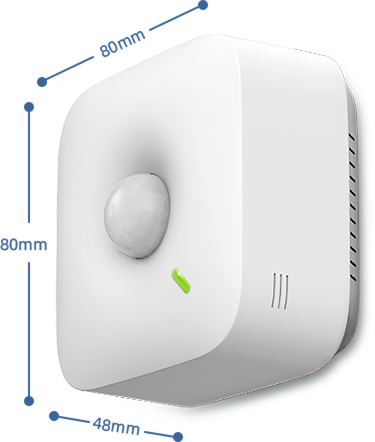 Convenient installation
It can be placed directly in the required monitoring area, or it can be glued on the smooth wall surface with double-sided adhesive, or it can be hung on the wall with screws. The surface of the product is matte warm white, easy to blend into the surrounding environment.
Various collocations, build your smart life
Connected to the IoT cloud platform through WiFi / POE Ethernet cable, the UbiBot®
Motion Sensor MS1 can notify you of emergency by alert sent to your mobile phone. When combined with UbiBot®

Smart Plug SP1, it is very easy to turn on the light or triggering alarm when somebody is detected. Different collocations can create different user scenarios.
Induction lighting
Install MS1 in the office to switch on/off the lights when someone passes by via the linkage to Smart Plug.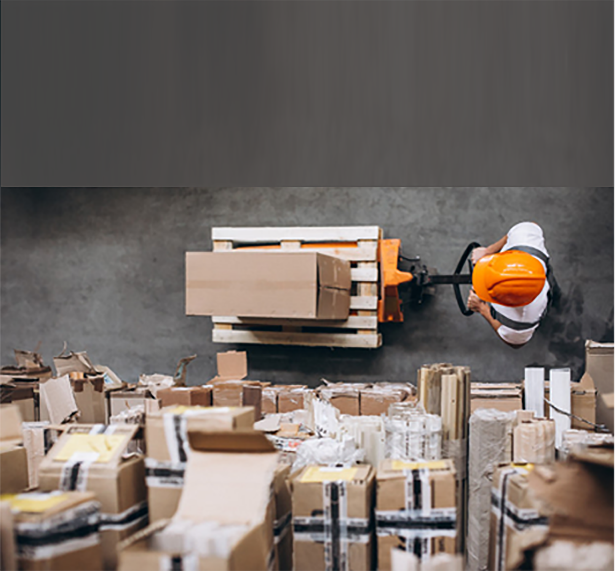 Security Alert
If someone breaks into the house without permission, alerts will be sent immediately to the user from our cloud platform of Internet of Things.